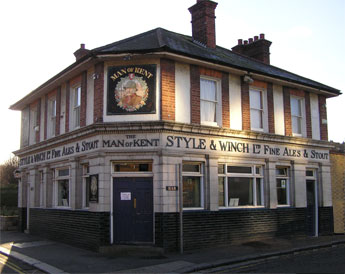 The Man of Kent, in Rochester, is one of my favourite pubs. Since I first drank a pint there, probably eight years ago, I've loved it.
Away from the Dickens-themed high street lined with antique shops and restaurants, where tourists go to visit the cathedral and castle, the Man of Kent stands on a corner, ornately fronted, in the sort of housing area you'd usually hope not to visit but often find yourself in search of a good beer.
Inside, when it's cold outside, a fire warms. The chairs are worn but comfier for it; it feels lived in, homely while having a rock music edge thanks to the staff and landlord. It's dark and better for it. There's a vacant slot waiting to be filled by a live band who somehow manage to fit inside the small interior. Things hang from the bar and the walls, all sorts of MoK curiosities: t-shirts, flags, blackboards, photos. To the back of the pub is an extra seating area and a selection of battered old board games, no doubt missing most of the pieces. Beyond that is a garden, decked above and below. In summer the landlord hushes the drinker because his kids are asleep in the rooms above.
The bar takes up most of the space, reaching around the corner almost uncomfortably and inefficiently. There's nine or ten handpulls and all of them are for beers made in Kent. Goachers is permanent, Gadds, Hopdaemon, Old Dairy, Royal Tunbridge Wells, Whitstable, Abigale and all the rest. The fridge is filled with Belgian and German eccentricities. There's imposing lager fonts – Kuppers Kolsch and two others (a friend once asked for Foster's here and was told to fuck off) – a Fruli tap, a trio of Meantime and a couple of lines for cider. There's also a huge Jager dispenser and a wide selection of wine and spirits.
Busy, great beer, Kent-centric (which as a Man of Kent myself is appealing) good atmosphere and just a little bit different. I've always liked it. I especially liked it when mates were told, brashly, to go to Wetherspoons if they wanted a fucking Fosters. It's not pretty or nice, it's a backstreet boozer which does great beer. The Man of Kent has always been one of my favourite pubs and I wish I drank there more than I do.